L I N K S
"The Lighthouse People"
www.thelighthousepeople.com
Bob & Sandra Shanklin's Page with News, Photos, etc. for various Lighthouses. Note that the photo on their home page is Bob standing in the doorway of Round Island Lighthouse.
---
Compton Engineering Site
www.comptonengineering.com
These are the folks who are doing the engineering for us.
---
Lighthouses of the United States
http://www.usalights.com/index.html
This site has just about every Lighthouse in the United States listed with photographs for most of them.
---
Amateur Radio Lighthouse Society
This international organization of licensed amateur (ham) radio operators will hold its annual convention on the Mississippi Gulf Coast in October 2011. Their mission is to promote interest in, and preservation of, lighthouses.http://www.arlhs.com 
Home | History | Photos | FAQ | Technical | Links
You Can Help | Membership | Feedback | Order Form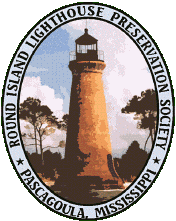 Round Island Lighthouse Preservation Society
P.O.Box 1059
Pascagoula, MS 39568