D R A W I N G S
ou want schematics? You want details? We've got them! With these drawings you could build your own lighthouse. They are saved in *.dwf format, the Internet drawing format for AutoCad drawings. You don't need to have AutoCAD to view these drawings. If you have trouble accessing them all you need to do is download and install the free Adobe Reader via the link seen below.

Sheet 1 (PDF) – An elevation and plan view of the Lighthouse.
Sheet 2 (PDF) – A drawing showing the details.
Sheet 3 (PDF) – Another detail drawing.
Sheet 4 (PDF) – Details, details, details. This one has an electrical schematic as well.
Georges (PDF) -1998
Katrina – 2005 (to be added)
As an added bonus, you can look at a plan view of the south end of Round Island, including the break water, before and after the Hurricane Georges.
Home | History | Photos | FAQ | Technical | Links
You Can Help | Membership | Feedback | Order Form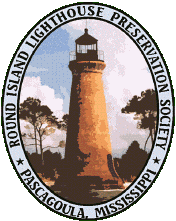 Round Island Lighthouse Preservation Society
P.O.Box 1059
Pascagoula, MS 39568